Award History
2016. 9

Good Design Award Winner "room's"
2018. 2

German iF Design Award winner "room's"
2018. 9

Good Design Award "bi×sole"
2019. 2

German iF Design Award Winner "bi×sole"
2019. 4

German Red Dot Design Award Winner "bi×sole"
2019. 10

OMOTENASHI Selection Special Award "room's"
2020. 4

German Red Dot Design Award "room's PLUS"
2022. 4

German iF Design Award Winner "bi×sole HOON"

The iF DESIGN AWARD is considered one of the three major design awards in the world, and is a design award that selects excellent designs from all over the world, sponsored annually by Industrial Design in Hannover, Germany. As an internationally authoritative design award for 65 years, iF is widely recognized as proof of excellent design. The awards are divided into seven categories: product, packaging, communication, service design/UX, architecture, interior, and professional concept. In 2019, more than 6,300 submitted designs from 52 countries/regions were rigorously reviewed by 67 design professionals from around the world.
Award 02
good design award

The Good Design Award is sponsored by the Japan Institute of Design Promotion and is given once a year to products with excellent design. It is the only comprehensive design evaluation and recommendation system in Japan. The G Mark can be displayed on products that have received the Good Design Award, covering a wide range of areas from products to business models and event activities. The G mark is a mark that recognizes "good quality," "ease of use," and "good balance as a product." This social value is recognized very highly and is familiar to consumers. I'm here.
Award 03
red dot design award

The Red Dot Design Award is an internationally prestigious product design award established in 1955 and sponsored by the Nordrhein-Westfalen Design Center in Essen, Germany. Designs that have been commercialized within the past two years are judged based on nine criteria, including design innovation, functionality, ergonomics, ecology, and durability, and excellent products are awarded. In 2020, over 6,500 submitted designs from 60 countries/regions were judged by a 40-person judging panel of internationally renowned experts.
Award 04
OMOTENASHI
Selection

OMOTENASHI Selection is composed of companies and organizations that agree with the purpose of this activity, and is operated under the cooperation of the OMOTENASHI NIPPON executive committee and multiple partner companies. Members with various characteristics such as consulting and service companies that practice "hospitality" in business, marketing communication companies in the PR and advertising field that convey its appeal, and distribution-related companies in Japan and overseas gather to transmit and distribute "OMOTENASHI". We are working on expanding.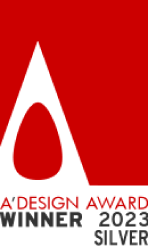 A'Design Awardはコモ文化省、欧州デザイン協会、インテリアアーキテクト&デザイナー国際連合、国際コミュニケーションデザイン評議会、国際産業デザイン協議会などが後援する最高のデザイン、デザインコンセプト、製品、サービスを選び、優れたデザインや活動をイタリアから世界に向けて顕彰する目的で2010年に創設されたデザイン賞です。同賞には5つのランクがあり、優秀な作品から順に【プラチナ、ゴールド、シルバー、ブロンズ、アイアン】の賞が全デザイン分野に対して贈られます。今回受賞しましたシルバー賞は受賞者の内、上位2%の受賞者に与えられる権威ある賞です。